San Jacinto Title Services of Texas is proud to announce the recent completion of Aprio's ComplianceSuccess® Program certifying compliance with American Land Title Association (ALTA) Best Practices. ALTA's Best Practices Framework includes:
Licensing
Escrow Accounting Procedures
Privacy and Information Security
Settlement Procedures
Title Policy Production and Delivery
Professional Liability Insurance Coverage
Consumer Complaints.
Aprio, LLP through its ComplianceSuccess® Program, is the leading CPA firm in the nation to perform ALTA Best Practices compliance benchmarking and assurance reporting services. The program provides CPA attestation for title and settlement professionals to demonstrate to their lender clients that they are in compliance with ALTA Best Practices. CPA attestation reports provide more assurance to banks than a certification report. Now, attorneys and title companies have a way to demonstrate their full compliance to their lender partners.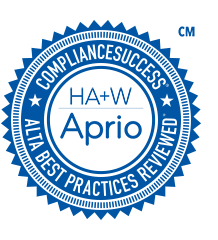 Click Here
for more information about Aprio's ComplianceSucess® Program
Click Here to view San Jacinto's Certificate